Sinds de introductie van de eerste pennaald in 1985 is Novo Nordisk toegewijd aan het verder ontwikkelen van onze NovoFine® pennaalden, om de injectie voor u zo eenvoudig en comfortabel als mogelijk te maken. NovoFine® Plus is het nieuwste resultaat van onze inspanningen.
Kort
NovoFine® Plus is kort, 4 millimeter, geschikt voor iedereen ongeacht gewicht1. 
4 millimeter naalden verkleinen de kans op injecties in de spier2
Dun
NovoFine® Plus is dun, 0,234 millimeter (32G), even dik als twee mensenharen3. 
32G naalden worden geassocieerd met minder pijn tijdens de injectie4

NovoFine® Plus heeft SuperFlowTM technologie. De dunnere wand van de naald zorgt voor een betere doorstroom in de naald, zonder dat de naald dikker is geworden. Hierdoor ervaren gebruikers dat er minder tijd en kracht nodig is voor injectie in vergelijking met naalden zonder SuperFlowTM technologie5.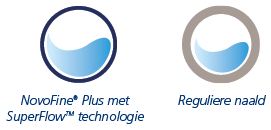 Na injectie dient de naald een aantal seconden onder de huid te blijven (zie de instructies van het gebruikte toedieningssysteem).
Universele pennaald
NovoFine® Plus is een universele pennaald die op alle gangbare toedieningssystemen voor insuline, GLP-1 en groeihormoon past.
NovoFine® Plus injectietechniek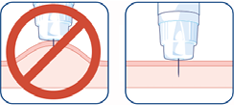 Referenties

1. Gibney MA, Arce CH, Byron KJ, Hirsch LJ. Skin and subcutaneous adipose layer thickness in adults with diabetes at sites used for insulin injections: Implications for needle length recommendations. Curr Med Res Opin 2010;26:1519–30. 
2. Birkebaek NH, et al. A 4-mm needle reduces the risk of intramuscular injections without increasing backflow to skin surface in lean diabetic children and adults. Diabetes Care. 2008;31(9):e65. 
3. Ley B. Diameter of a human hair. In: Elert G. The Physics Factbook™. http://hypertextbook.com/facts/1999/Brianley.shtml. Published 1999. Updated 2011. Accessed June 24, 2013.
4. Arendt-Nielsen L, et al. Pain following controlled cutaneous insertion of needles with different diameters. Somatosens Mot Res. 2006;23(1/2):37-43. 
5.  Siegmund T, et al. Comparison of usability and patient preference for insulin pen needles produced with different production techniques: "thin-wall" needles compared to "regular-wall" needles: an open-label study. Diabetes Technol Ther. 2009;11(8):523-528.